HOW SPARKLEAN WORKS?
It is easy to use. For Mirror, Glass or Plastic, follow this 2 steps:
FOR JEWELRY & METALS, FOLLOW THIS 4 STEPS OR WATCH THE VIDEO: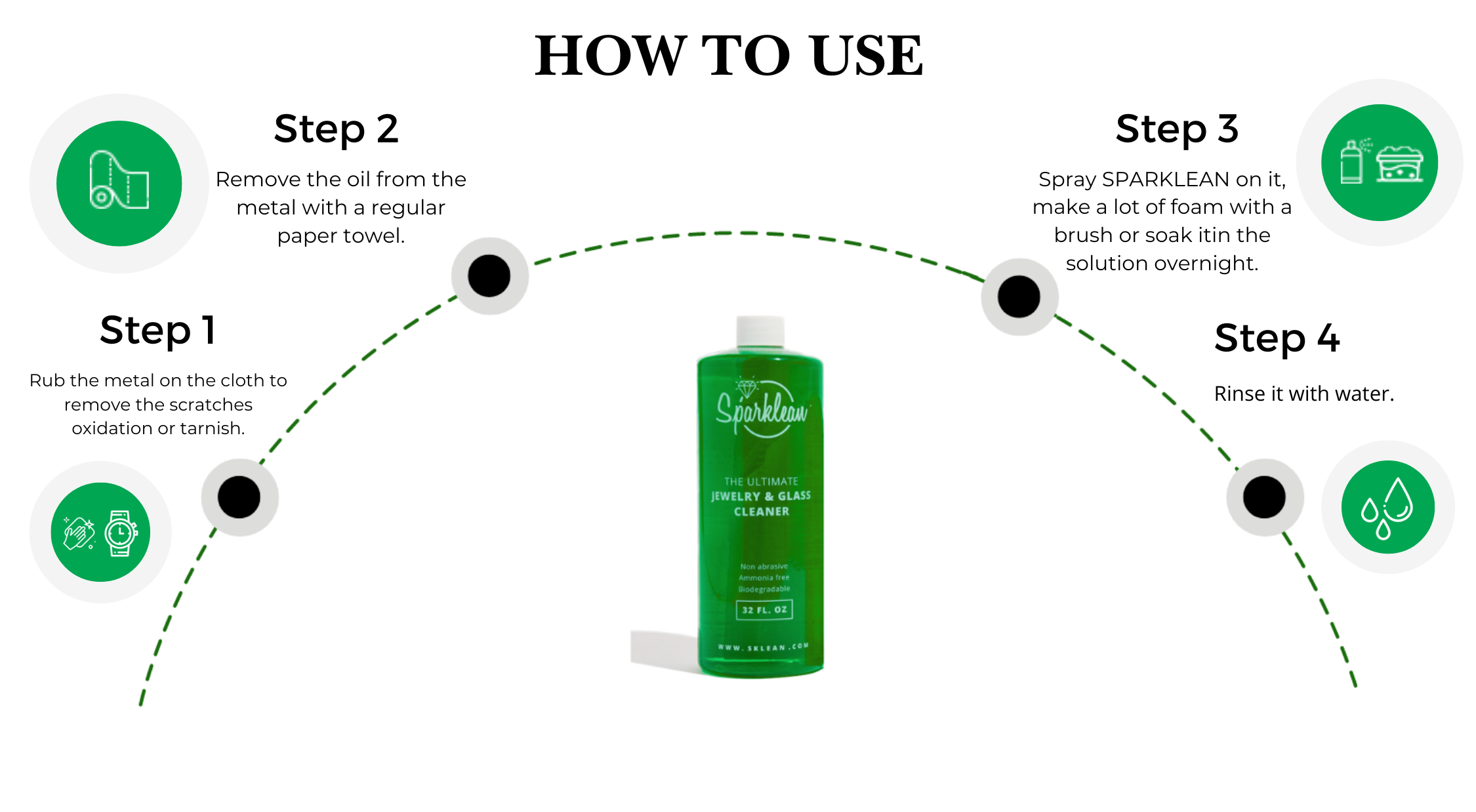 HOW SPARKLEAN CLOTHS WORKS?
It is easy to use.
Directions 
Rub tarnished objects gently.
For scratches and severely tarnish surfaces rub vigorously
Buff clean surface with a cotton cloth.
The ultimate all-purpose polishing cloth contains nothing harmful to the skin and will not damage the most delicate finishes.
Do not wash the cloth. Cloth discoloration does not in any way affect its efficiency.
The darker it gets, the most efficient it gets. The chemical in cloth will not evaporate. However, after being used, it should be placed in its own zipper bag.
Follow by using Sparklean Jewelry & Glass Cleaner for the ultimate shine.
You canuse Sparklean Polishing Cloth on Gold & sterling silver, Platinum & rhodium, Brass & copper, Aluminum & chrome, Nickel & stainless steel, Tungsten & titanium, Jewelry and Watches, Silverware & tea sets, Motorcycles & boats, Guns & Knives, Golf clubs & fishing tackle or Wood & ceramic tiles.WithSparklean Polishing Cloth you can remove:
Tarnish on Metals
Surface scratches on metals
Water Marks & Ink on furniture
Verdigris on antiques
Scuff marks on floors
Rust & corrosion on metals
Burn Marks on appliances
Rust on enamel and porcelain
Paint spots on metals/glass
Water marks on granite/marble
Road film on glass/metal
Rosin from violins